WE ARE NOW RE-OPEN AS OF 6/27/20
In recent events, we are using this page to keep everyone updated as to what is going on at 1909 with our temporary closure due to a staff member testing positive for COVID (closed 6/18-6/26). We are working closely with Riverside Health Department to give as much information as possible to our guests. For any questions, please stay tuned on our social media updates.
Here are some items that guests may see while dining at 1909. Please note that we are following all state guidelines during this time for the protection of our staff and our guests. We don't make the rules, we just follow them! Don't like the rules...call the governor ;).
Social distancing - all tables are social distanced and/or closed to ensure social distancing (We even got a tape measure out to be extra sure)
Expanded outdoor patios and a new al fresco style seating outdoor patio
All indoor dining/indoor bar top is CLOSED due to new state mandate - as of 7/1/20
All of our staff will continue to wear masks and gloves at all times
Communal tables are now limited to 1 party or smaller parties that can be social distanced
Masks - Guests are now required to wear a mask on our property while not seated at their table (including walking to and from entrances or bathrooms).
Temperature checks are taken at the door for all staff, guests (ages 12+) and vendors. Temperatures will be taken again if leaving and re-entering the restaurant (this is not an option)
There is no party size limit. The guidelines state that as long as every person in the party chooses to sit together, party size does not matter. What matters is that social distancing occurs between other guests. That means that if 50 people want to sit together, we will let you. We will just make sure that all other guests dining with us are social distanced from the larger group.
Reservations for parties of 8 or more and walk-ups are always welcome. Larger party reservations are limited.
Hours are current and updated at the bottom of our website
Only positive attitudes and good times while at 1909! We are here to have a great time, enjoy great food and drinks and enjoy each other's presence! Let's make the best of the times we are living in! Cheers!
If you ever have any questions, please do not hesitate to email us at social@1909temecula.com any time! We are always happy to help!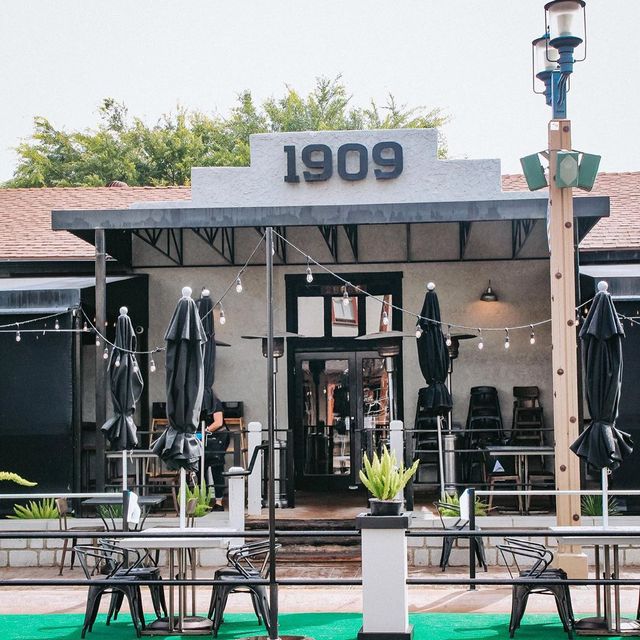 Our Continued Mission For the Safety of All
At 1909, we care nothing more about the safety of our guests and our staff. We are continuously adding in more protocols and adjusting protocols to ensure the safety of all. In the information at the top of this webpage, you will see a list of some of the items that are currently being implemented at 1909. We understand that everyone is entitled to their opinions about safety protocols and/or corona virus in general, but we have to do what is best for all and that is what we will continue to strive to do so we can enjoy our times at 1909. This small update is to help answer any additional questions that may arise after we re-opened from our temporary closure (our choice not mandated).
*At this time, all employees that are currently working have been tested and returned with negative test results. If an employee refuses to take the test, they are not allowed to return to work.
*Any new hired employees are now required to be tested with negative results prior to joining our team.
*Any employee that claims to have any symptom of corona virus, even if they think it may be allergies, is sent in for testing prior to returning to work - we aren't taking any chances. In fact, many employees have opted to now be tested weekly or every other week to ensure that we are keeping a safe environment for all staff and guests.
*What happens if an employee knows that they have been exposed to a positive person outside of work? We have asked all employees to keep track of themselves as well as do self checks daily prior to coming to work. If an employee knows that they have been potentially exposed to a positive person, outside of the work place, that employee is not allowed to come in to work until they have been tested again and can provide negative test results.
*What happens if an employee tests positive? We are going above and beyond to ensure everybody's safety (we were the first to publicly announce a closure in our area and will continue to do what we think is in the best interest and safety of all). If we think that there is a potential that an employee and/or guests have been exposed to the virus at 1909 (there was no proof according to the Riverside County Health department that our first case was contracted at 1909), we will close again and have all staff re-tested prior to re-opening. If an employee knows they were exposed outside of the work place and potentially tests positive, the employee along with all exposed staff will be quarantined until negative results can be returned. We unfortunately cannot control all outside factors of 1909 and the exposure potentials, but it is our mission to do whatever it takes to keep everybody safe!
*We are now looking in to working with a medical company to provide rapid test results for all employees on a regular basis to help reduce potential spread of covid and flatten the curve.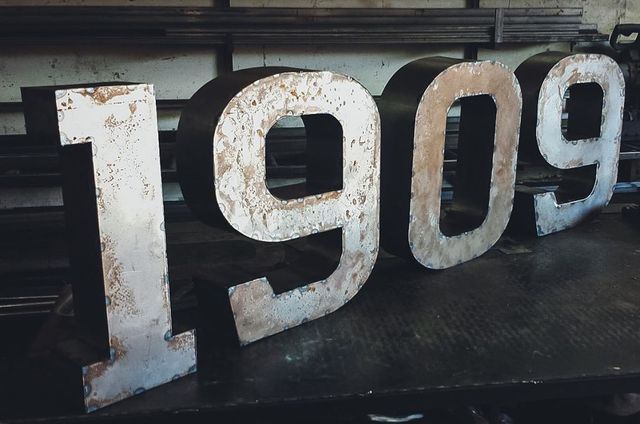 Re-opening 1909
Today, we will open back up for business after a brief hiatus related to Covid. First and foremost we want to thank 🙏 all of you for your positive comments and standing behind our decision to protect not only our community, but ourselves ❤️❤️❤️.
As we are sure there are lots of questions related to our opening let us answer a few...
🔹Is the building safe?
Yes, the building has had every inch sprayed with professional disinfectant from top to bottom thanks to @pulidocleaningandrestoration. We will continue to do a complete disinfection each and every day before we open for business.
🔹Have the employees been tested?
Yes, all of our employees who will return to work have been tested and had results of only negative!
🔹Will the employees continue to wear masks and gloves?
Yes, not only will we continue to go above and beyond implicating our rules set in May with our re-opening, we will now go ABOVE those standards with NEW additional methods to ensure everyone's safety.
🔹Are our tables social distanced?
Yes! All tables have been socially distanced with 6 ft spacing. Our bar also has a limited number of seats. Communal tables will have limited guests at them if sharing a table to ensure social distancing.
🔹Will there be a limit of party size?
No. According to the state guidelines, as long as one party is socially distanced from another party, that group can choose to sit together with no limit on guest count. However, we are limiting larger party size reservations.
🔹Will masks and temperature checks be required for guests?
The answer is yes! We will continue to use our no-touch thermometers to pre-screen all guests (ages 12+) entering our establishment. Guests will also now be required to wear a mask or face covering when walking to and from their table. Masks are not required while sitting at your table.
As you can guess, this has been a difficult few days getting back into position to reopen. We are doing everything we can to exceed CDC and health department recommendations because safety is our top priority. We are happy to be back and ready to serve you all again! 🥳🙌🏻🍔🍸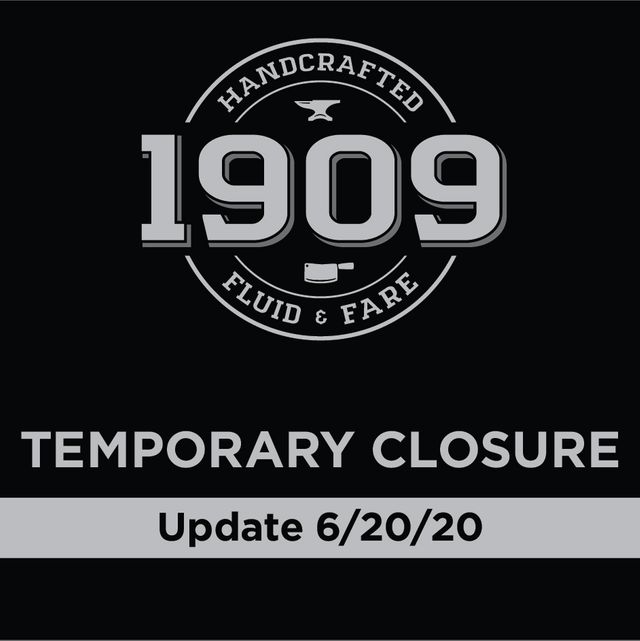 Covid Announcement 6/20/20 at 6pm
As mentioned in previous posts, we will continue to update everyone as we navigate through all of this. If this is the first time you are reading this, please visit the link in our bio. We have set up a web page with all posts related to updating the public. If you follow us on social media, our website is a direct copy of all posts in 1 location.
Many people have reached out in support of our business and the health and safety of our staff. Thank you so much for being so supportive and positive. If you have missed any information from previous posts, here is a short update.
We are doing the best we can to share as much information we can legally. We cannot release specific details as to when our employee worked (days or time...we wish we could), but we can share a little bit of information that will hopefully help alleviate some questions.
1) After communication with the Riverside County Health Department, it is still unknown if this case was even contracted at 1909. It could be just a random fluke, but we are making sure prior to re-opening by having all staff tested to ensure everyone's safety.
2) According to the health department's definitions of exposure, at this time, all of our guests are considered to be at a low risk exposure. However, we also do not know at this time if any of our other staff members have been exposed and infected by the virus.
3) All people that are considered to have been at a potential high risk exposure have personally been contacted by us, so if you have not been contacted, then you are considered low risk exposure (like if you were to go into any public place like a grocery store).
We sincerely apologize that we cannot be direct with our answers due to legality issues :(.
We hope that some of this information helps alleviate some questions, even though this is all very new to all of us.
If you have any additional questions, please do not hesitate to email us at social@1909temecula.com; we are still not on site to answer any phone calls.
Again, thank you to all of you for being so supportive during this time! It means so much to all of us ❤️!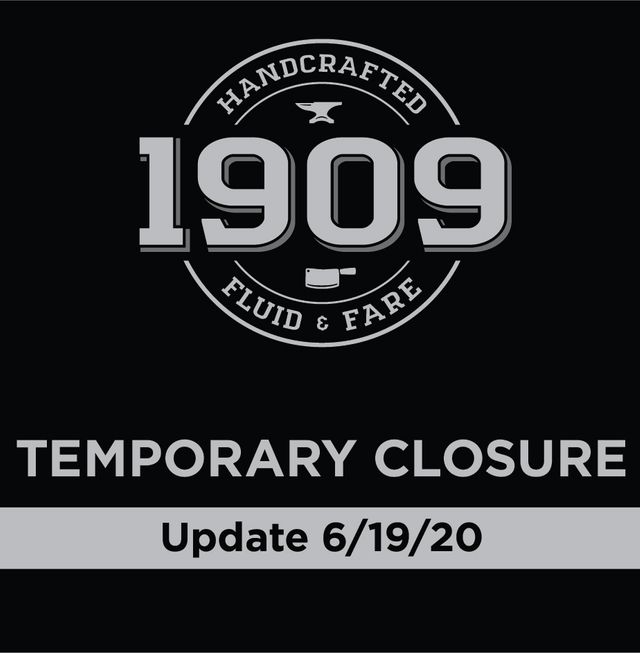 Covid Announcement 6/19/20 at 8am
We apologize that we have not been able to answer everyone's questions as fast as you would like. As we navigate these times, we are continuing to try our best to share what we can. Please know that we are a family owned business. The last thing we want is to hide anything, that is not like us. We know of many businesses that have had employees test positive, but have not closed. Legally, we are not obligated to close. According to the health department, as long as the employees or guests that have been in direct contact with our staff member have been notified to quarantine for 14 days, which they have, we could technically resume business. We don't think this is right! We don't feel comfortable with that, which is why we are paying all employees for their time to get tested and why we chose to close. We are also paying potentially high risk exposed staff members to quarantine. We will not re-open unless all staff working have returned with negative results.
At this time, we legally cannot share our staff member's information or work times due to privacy laws. We are so sorry! While we wish we could, we do want to do our best to try to share what we can. We are not here to create panic, but want to be transparent.
Here is some information that was shared with us by the health department:
HOW DO I KNOW IF I WAS EXPOSED?
You generally need to be in close contact with a sick person to get infected. Close contact includes any of the following:
• Living in the same household as a sick person with COVID-19
• Caring for a sick person with COVID-19
• Being within 6 feet of a sick person with COVID-19 for about 10-15 minutes
• Being in direct contact with secretions from a sick person with COVID-19 (e.g., being coughed on, kissing, sharing utensils, etc.)
We are not COVID experts, so we cannot say whether a person has been exposed or not, but know that with the knowledge we have right now, guests are most likely at low risk. However, we cannot negate the fact that there is a potential of other staff members being exposed and we are unaware at this time of that outcome.
We will continue to share information when it becomes available.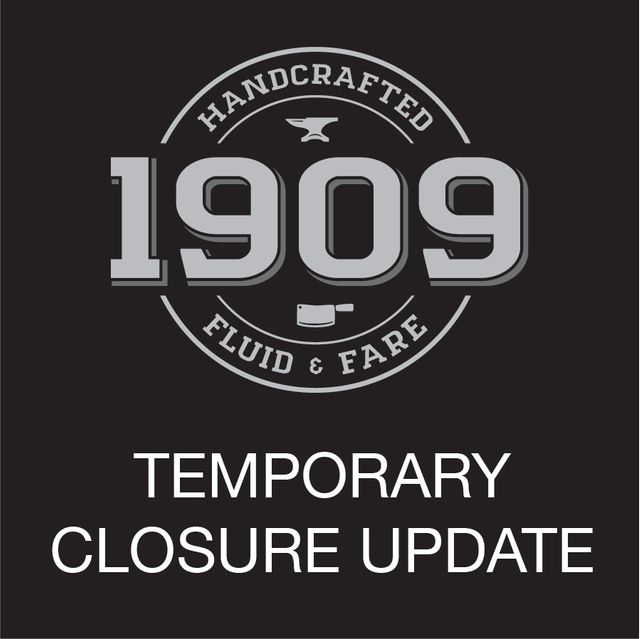 Covid Announcement 6/18/20 at 8pm
As promised, we will continue to release information as we receive it. Thank you to everyone who has responded. We appreciate your support and understanding as we navigate this unusual time with transparency and diligent concern for both our staff members and patrons.
We have been conducting temperature and health checks at the beginning of every staff member's shift since the day we re-opened. And while we cannot share details about our staff member to protect their privacy, we can assure you that the team member who tested positive exhibited no symptoms of illness while at work and passed all checks prior to any shifts. The individual proactively took a COVID test after feeling an onset of a COVID symptom, informed management right away, did not return to work and we chose to close immediately once finding out the results.
We have been in contact with Riverside Health Department today to ensure the safety of everybody including our guests and our staff.
Again, this is all potential and not a guaranteed fact that anybody has been exposed, nor do we know for sure that our staff member was exposed at 1909, but we do feel that it is our obligation to share all information when possible.
Thank you again for being patient with us as we navigate next steps.
At this time, Riverside County Health Department is suggesting anyone that has dined with us since re-opening has potentially been exposed. While you may not have come in direct contact with the staff member, we cannot say for sure that none of our other staff have not been exposed until we receive all test results back.
Again, we wish we had better news to share 😢! We can guarantee that we will not re-open until all of our staff return with negative test results along with other new measures put in place.
Thank you to all of you for your best wishes for all of our staff! We appreciate you and will continue to be diligent and transparent as we move through this challenging time.
**Please note that the rumors already starting to fly about a "server" being the staff member are just rumors. We have not nor will state the position the staff member is in at our establishment.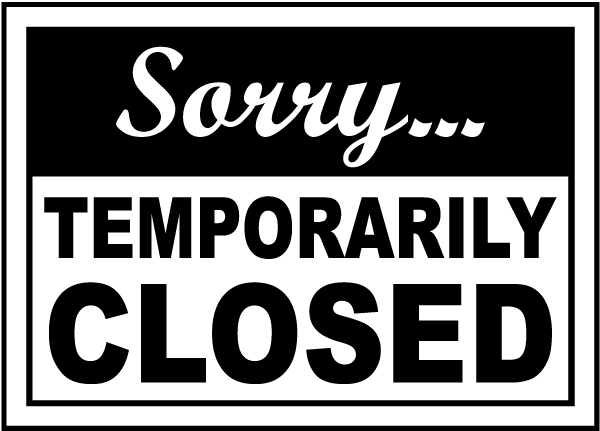 Covid Announcement 6/18/20 at 12pm
As a company we have been closely monitoring COVID-19 news and updates, and unfortunately, just learned one of our own has tested positive for the virus. This is extremely sad news to all of us as we have done our best to go above and beyond with safety and sanitation for all of our guests and staff.
We are hopeful that the additional cleaning procedures, no-contact policies and daily employee and guest temperature checks that were implemented upon reopening have contained the possibility of a spread. However, out of an abundance of caution for our valued guests and staff members, we will be temporarily closing. At this time, we are working closely with Riverside Health Department to ensure everyone's safety. There is no proof that this virus was contracted at 1909, but we want to take precaution as much as we can.
Maintaining a safe, enjoyable establishment is our top priority and we'll be focusing on this situation over the next couple of days by immediately bringing in a professional sanitation crew to disinfect our building, and providing all of our staff members with rapid-result COVID tests to ensure they are healthy. Any staff members who tests positive will be given paid leave while they quarantine.
After implementing the above action plan we plan to reopen, and will continue to be completely transparent and post updates as we closely monitor the situation. We do not have a set date of re-opening as we want to ensure all staff are cleared before returning to work. We apologize for the inconvenience and short notice to anyone planning to visit us today, but thank you for your understanding and support! At this time, there will not be staff on site to answer phone calls. We sincerely apologize. All emails will be answered as quickly as we can, but please be patient with us. Please continue to check back for updates as when we get information, we will make sure to share what we can.